Laser League
---
Unravel the Fortress of Inscrutability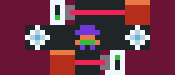 Robber Baron has stolen the town jewels, but never fear!


Mighty Bridget won't be pushed around. She does the pushing!


Teenaged Sophie is unsurpassed in laser-leaping skill!


No cranny is too tiny for child prodigy Zelda!

Evildoers are no match for THE LASER LEAGUE!
---
How to play
Controls
Arrow keys ←↕→ (or WASD) to move around.
X (or Space) to change character.
Z to undo mistakes.
R to restart a level.
Browser support
Recommended browsers

: Chrome, Firefox, Opera and Microsoft Edge all work great.

Okay

: Brave browser (you'll need to turn off 'shields' so that it can save the game), Safari (does slightly strange things to the itch page).

Not recommended

: Internet Explorer (doesn't show the level select or full-screen buttons).
---
Credits
Made with ♥︎ by Tim Knauf.
Tools
Created using the wonderful PuzzleScript, without which this wouldn't exist.
Enhanced with PuzzleScript Game Bar.
Testers
A very warm thank you to testers Craig Warne, Annie Kyles and my children Jay and Zoe.
Also huge thanks to #playtesting on the thinky-puzzle-games Discord for your valuable feedback: jcGyo, ncrecc, jackk, EPGAstudios, TophWells, minotalen, builder17, Jack Lance, That Scar, Sky Chan and Pedro PSI.
Special thanks
Extra special thanks to my amazing wife Sharon, and her unending love and support. You're the best!
---
Comments
Log in with itch.io to leave a comment.
The fact that everyone reacts when one of the characters failed makes it even better.
Haha, glad you appreciated that! Great what you can do with a single-frame reaction sprite.
Hey! This was really good! I like the little bits of personality they have. Great puzzles, too. Just challenging enough to be fun.
Thank you! Designing the gradated puzzles and the little bits of personality were my two favourite parts of the development process. 🙂
Great job, Tim! This is a lot of fun, quite polished, and it's a wonderful execution of a great idea. Keep up the excellent work!
This is a great puzzle! The last stage was very difficult.
Thanks so much for playing, and great walkthrough video. Ha, I watched how you did level 13, and you did it completely differently to how I intended! 😂 I like your solution, though, very cool!
Nice thing with different characters abilities.
Extremely fun and mind bending, without being too tedious or tricky. Would love to see this expanded with new concepts beyond lasers.